Just Thrive Probiotic + Just Calm

Secure Checkout

Safe Shipping

Satisfaction Guarantee
About Product

Beat stress and take control of your mental and emotional health! Pair the award-winning, gut nourishing Just Thrive Probiotic with the stress-busting, mood uplifting "psychobiotic" power of Just Calm.

Just Thrive Probiotic: Guaranteed to arrive 100% alive in your gut, Just Thrive spore-based Probiotic has 1000x better survivability vs. leading probiotics. It's also the only retail-available probiotic containing the propriety, Bacillus Indicus HU36™, that produces antioxidants directly in your gut for unmatched digestive, immune, and total-body health support. 

Just Calm: This is the breakthrough new stress and mood support formula from Just Thrive that broke the internet. Here's what makes it so radically different: It pairs 3 brain-nourishing B vitamins with the proprietary "psychobiotic" strain, BL 1714™. Psychobiotics are a new class of products with beneficial bacteria that can support your mood, cognition, and emotional health… And BL 1714™ is the most heavily researched and clinically proven strain available. So bring on the insufferable rush hour traffic… The deadlines at work… And the relentless, miles-long to do list… With Just Calm, you'll have the unfair advantage of feeling cool, collected, and in control.
Ingredients

Learn about each ingredient

HERE
Shipping Info

Just Thrive is not responsible for any customs or duty charges. All customs charges are the responsibility of the customer. International orders cannot be shipped with expedited options.

You always save on every bottle and get FREE shipping
You are always in control. Change your shipping date or cancel future participation at any time by logging into your account or with a simple call to customer service or email us at info@thriveprobiotic.com.
We ship your next order every 30 days so you save time and never run out.
Any coupon code used applies to first order only.
Returns

Just Thrive is passionate about good health, and we ensure the integrity and quality of our products. That's why we're proud to stand behind every sale with a 100% customer satisfaction "Bottom-of-the-Bottle" Guarantee:

If you're not 100% satisfied with your purchase of any Just Thrive product from www.justthrivehealth.com, return it to us for a full refund* – even if the bottle is empty!

Please ensure you use the Return Portal to receive a refund.

*Excludes shipping. Applies to a maximum of two bottles purchased directly.
View full details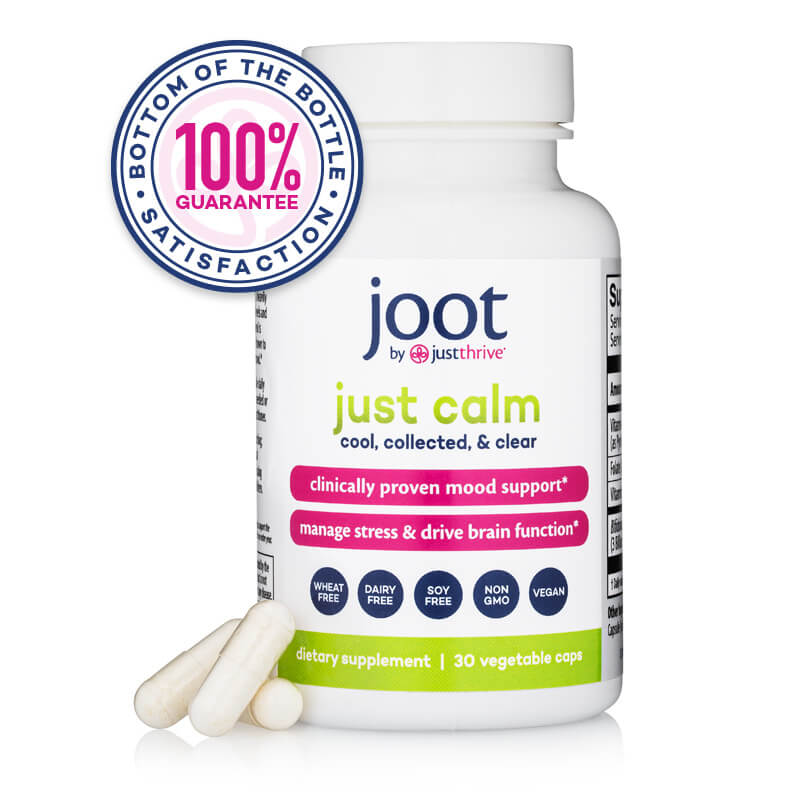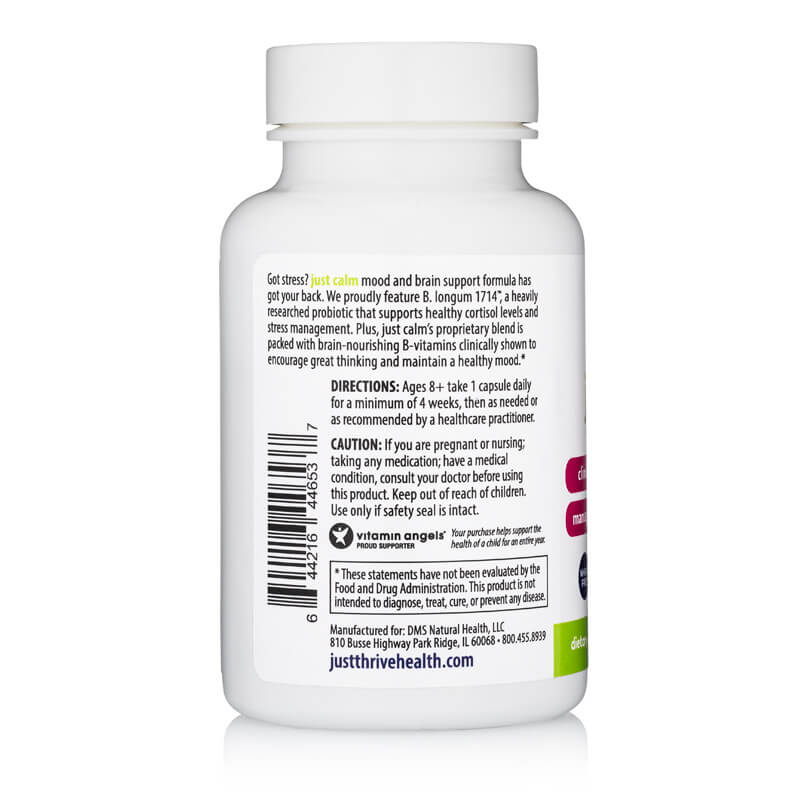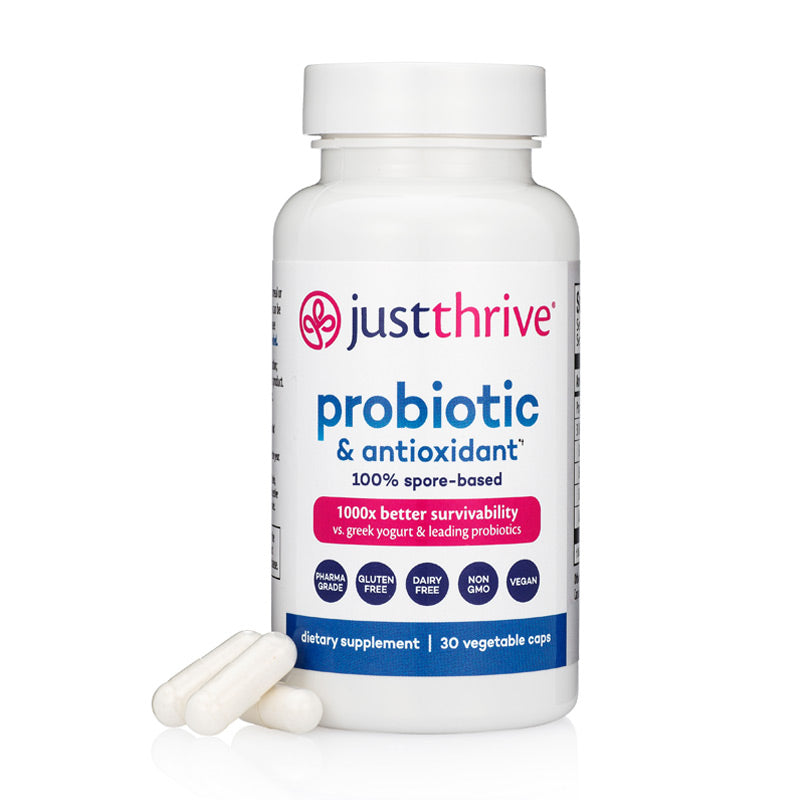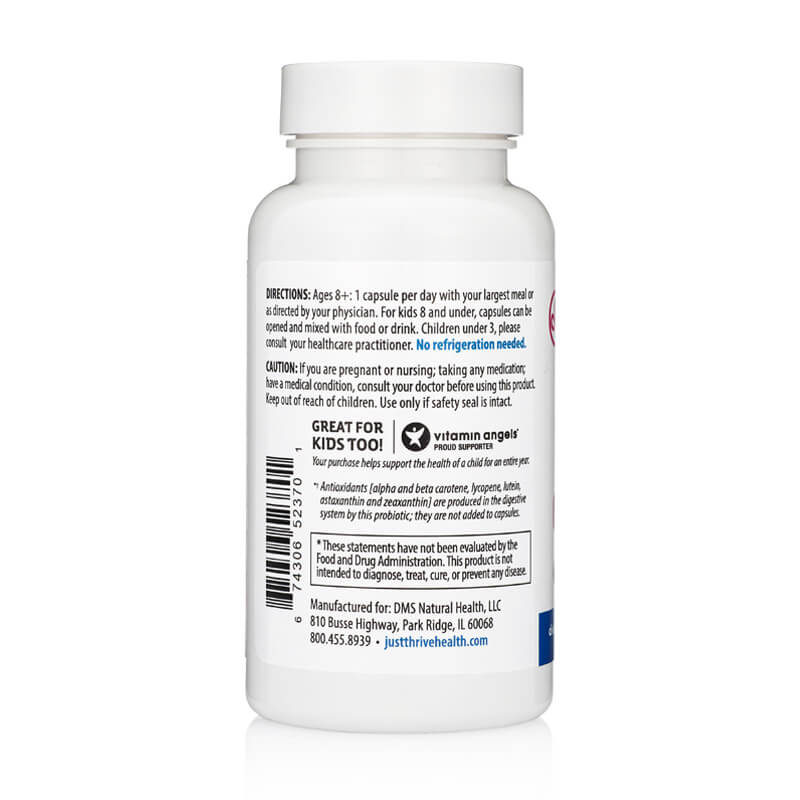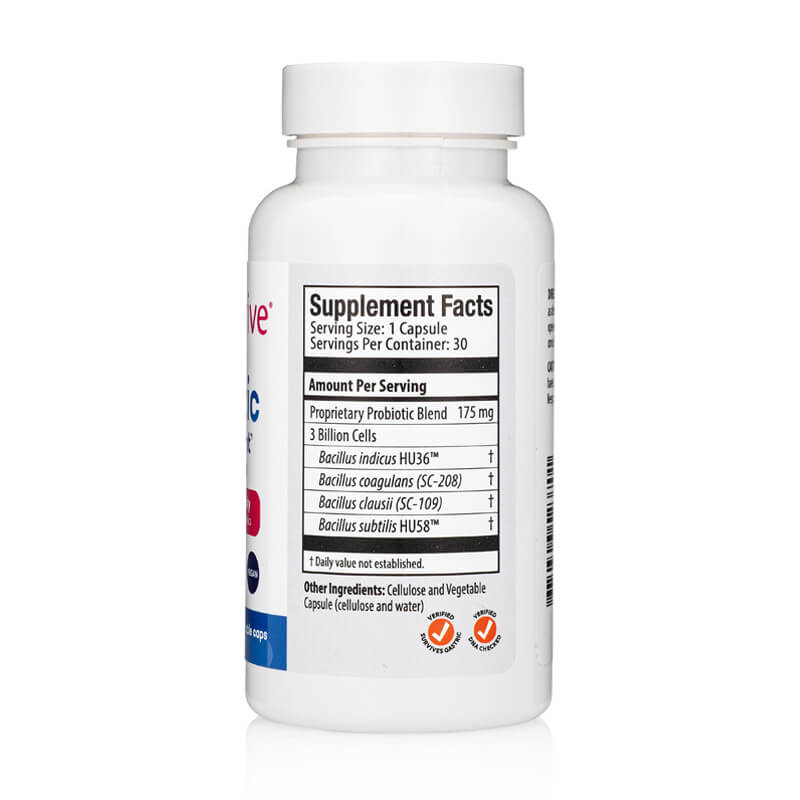 Take Control Of Your Stress And Mood
Power Your Good Bacteria

As much as 95% of your neurotransmitters are produced by your gut bacteria. That's why a healthy gut = a happy you. Just Thrive Probiotic helps your good bacteria thrive while crowding out the pathogens that can spike cortisol levels.

Flip The Switch On Stress

Just Calm features the proprietary, BL 1714™ – the most heavily researched psychobiotic available. This one strain has been shown to help manage everyday stress, drive peak cognitive function, and support better sleep and vitality.

The Positive Mood Power Couple

When you pair the foundational nourishment of Just Thrive Probiotic with the stress-busting, mood-uplifting power of Just Calm, you've got a recipe for easy stress management and peak emotional well-being.
FREQUENTLY ASKED QUESTIONS
Still Have Questions? We've Got Answers!
First off, there aren't any other similar products. There are several probiotics on the market, but no product can match Just Thrive's clinically verified research or best the following benefits:
Just Thrive = Superior survivability:
Unlike 99% of probiotics on the market, Just Thrive Probiotic is designed by nature to make it to your gut fully alive and ready to go to work. In fact, studies have proven that Just Thrive Probiotic arrives in your gut 100% alive, making it 1000x more effective than leading brands.
Just Thrive = Superior antioxidant support:
Just Thrive is the ONLY retail probiotic featuring the exclusive superstrain, Bacillus Indicus HU36™. In clinical studies, this strain has been proven to turn your digestive system into an antioxidant factory. Even better, the antioxidants get produced right where your body can best absorb them – In your digestive tract! This level of antioxidant support can quickly provide potent free radical-fighting power, and promote your best overall health and immunity.
Just Thrive = Superior results:
Your entire body benefits when your gut is healthy! With up to 80% of your immune system living in your gut, the clinically proven effectiveness of Just Thrive Probiotic will drive your optimal health and protection.
Also - If you tend to have tummy troubles (gas, bloat, constipation), you'll experience a calming effect on your system. If you tend to have irregular bowel movements, you will find improved regularity. Users have also reported more energy, excellent sleep, easy weight management, and just an overall "good" feeling.
No! Just Thrive Probiotic is completely resilient and shelf-stable. In fact you can even break open a capsule and mix it into a drink or smoothie… Or freeze it... Or bake it up to 455 degrees without losing potency!
No, Just Thrive Probiotic is free from GMOs, gluten, grains, corn, soy, dairy, and histamines.
Just Calm's power comes from pairing the brain-nourishing strength of 3 targeted B vitamins with the proprietary, heavily researched "psychobiotic" BL 1714™.
This unparalleled, probiotic strain is clinically proven to support:
Easy stress management*
Mental health and stability*
Peak cognition and focus*
Neurotransmitter production*
And overall feelings of well-being*
And you can feel good knowing that these ingredients are clinically tested effective in supporting your best cognition, brain health and stress coping abilities.
Many of our customers feel an impact in just a few days. And, like everything in life, the greatest success comes from showing up and doing your best every day. In fact, the most moving and impressive stories have come from customers who've consistently used our products for at least 2 to 3 months.
Native to the human gut, Bifido Longum strains have the ability to impact our mood, sleep, and cognition.
BL 1714™ (full name: Bifido Longum 1714™) is the most scientifically-verified mood support probiotic in the industry and has been shown to soothe occasional stress, revitalize energy, and support mood in human clinical trials in as little as 4 weeks.
Yes, more research and scientific studies, including human clinical trials, have been done on the psychobiotic strain in Just Calm (BL 1714™) than any other psychobiotic strain in the industry.
The research continues to show that BL 1714™ supports memory, healthy endocrine/cortisol levels and lowered stress, effortless focus and concentration, and quality of sleep and resilient energy.
In a recent study involving 44 healthy adults, scientists measured the effects of 4-week BL 1714™ supplementation on stress response and neural activation. The findings show that BL 1714™ conclusively supports brain coping mechanisms and a positive mood.
Using an EEG to measure brain activity, researchers found that taking BL 174™ encouraged theta wave activity. This brain wave is linked to a healthy stress response and can help you enter a flow state (ie: an effortless state of focus and concentration).
You can take Just Calm at any time of day, with or without food. It can be taken once or twice per day - first dose ideally in the morning and if a second dose is taken, just before bed. You can take it continuously for an accumulated effect or as needed when stressful/sleepless situations arise. 
Just Calm has been formulated using the highest safety and efficacy measures. However, because the product has not been clinically tested for children under 8 or for pets, we suggest people first check with their pediatrician and veterinarian before use.
Our microbiologist team believes Just Calm is likely safe to take while pregnant or breastfeeding, but since the product has not been clinically tested on expecting/lactating moms, we suggest checking with your physician first.
Just Calm is ideal for either short term needs OR long term stress and mood support. While we feel it is well-suited for just about everyone, we always suggest you check with your physician before adding a new product to your health regimen.
We have sourced the most bioavailable forms of each of the three B-vitamins in Just Calm. Vitamin B6 (as Pyridoxal 5 phosphate), Folate (as L-5-methyltetrafolate) and Vitamin B12 (as Methylcobalamin).
No! Just Thrive Probiotic and Just Calm are completely resilient and shelf-stable.
If you're feeling off, stressed, traveling, or just need an extra lift, you may wish to take more. For this reason, many customers prefer 2 bottles per month to ensure they can be flexible as needs arise.
This is also the reason why many Just Thrive customers choose a monthly subscription to ensure the next bottles are always received prior to running out. (Meaning you can keep your health momentum going!)
Remember: With our subscription member portal, you can easily edit, skip, or pause your next delivery.
For domestic orders placed on our website, you can expect the order to process within 1-3 business days. After your order ships, most orders are received within 3-5 business days.
Yes, ALL subscription orders delivered in the Contiguous United States will receive 100% FREE shipping and handling.
For any questions, feel free to contact our wonderful customer support team:
Connect with us via phone:
+1 (800) 455-8939
Monday – Friday 8:30 am – 5 pm CST (excluding some holidays)
Or reach out via email:
support@justthrivehealth.com
And, if for whatever reason you're not 100% satisfied with your Just Thrive product, you're covered by our "Bottom of the Bottle" Money Back Guarantee: Love your Just Thrive purchase, or request a refund at any time… Even if the bottle is empty!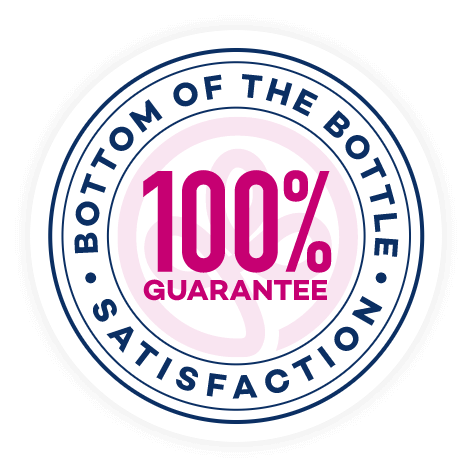 Our Promise To You 100% Satisfaction Guaranteed
At Just Thrive, we're proud to stand behind every sale with a 100% customer satisfaction "Bottom-of-the-Bottle" Guarantee. If you're not completely satisfied with your purchase of any Just Thrive product from www.justthrivehealth.com, return it for a full refund at any time. Even if the bottle is empty!

Related Products
Regular price

$0.00

Sale price

$49.99

Unit price

per

Regular price

$74.99

Sale price

$69.99

Unit price

per