4 Weird Signs Your Gut Is Leaking
Ever feel like your body has suddenly declared war on your favorite foods?

Or watched blemish after blemish appear on your face despite your religious skincare routine?

You might be unknowingly battling an invisible enemy - leaky gut syndrome.

Here are 4 oddball signs that your gut has sprung a leak:
Random Food Sensitivities
So, one day you're happily munching on peanut butter, and the next day, even the thought of it makes your stomach turn.

This sudden war against certain foods might be due to leaky gut.

When your gut wall takes a hit, it lets food bits leak into your bloodstream, causing your immune system to freak out. Voila - food sensitivity!
Skin Issues Out of Nowhere
Surprise! Skin issues go way more than just skin deep. Conditions like acne, rosacea, and eczema can all be signs of something funky happening in your gut.

Your "gut-skin axis" is like a two-way street of information between your gut and your skin.

When things go haywire in the gut, your skin will often respond with a breakout.
Feeling Blue? Check Your Gut
Here's one of the most mind-blowing things about leaky gut: It can affect your mood.

Your gut has the nickname 'second brain' because it's chock-full of neurotransmitters (chemicals that control your mood).

A troubled gut can mess up these neurotransmitters, leading to feelings of anxiety, depression, and more. Talk about a gut feeling!
Nutritional Deficiencies
For the grand finale of gut strangeness…

Even though leaky gut might let harmful stuff into your bloodstream, it can also stop the good stuff, like essential nutrients, from getting in.

This can leave you with all kinds of strange symptoms–

Like muscle cramps from not enough magnesium, or random bruises from a lack of vitamin K.

It's a perfect example of how everything in our bodies is connected…

And how a glitch in one area can trigger a cascade of seemingly unrelated issues.

If you think this all sounds familiar, you're not alone.
Many experts believe an astonishing 80-90% of people have some level of leaky gut syndrome!
That's why I formulated Just Thrive Gut 4-tify.

Gut 4-tify is the only retail-available product clinically proven to help patch up the holes so you can live leak free!

This one supplement can bring back peace with your skin, your diet, your mood, your nutrition - and more.

>> Tap Here To Learn more about Gut 4-tify Today
By the way...
Don't let the peculiar world of leaky gut get you down... 
Discover how you can save up to 21% off a Gut 4-tify subscription (scroll down for details)...
...
Sources:
https://www.ncbi.nlm.nih.gov/pmc/articles/PMC2898551/
https://www.ncbi.nlm.nih.gov/pmc/articles/PMC6678709/
https://www.ncbi.nlm.nih.gov/pmc/articles/PMC6469458/
https://www.frontiersin.org/articles/10.3389/fnut.2022.718710/full

---
Get protected with this gut barrier superhero

Secure Checkout

Safe Shipping

Satisfaction Guarantee
About Product

The mucosal barrier is the largest immune organ in your body, and a crucial part of your digestive health. When it's strong, it provides a thick layer of protection for your intestines. But when it's vulnerable, toxins and antigens can quickly escape into your bloodstream, leading to potentially serious health problems. Gut 4-tify is the first product of its kind developed to build a healthy mucosal barrier that supports immune effectiveness, and smooth digestion.
Ingredients

Learn about each ingredient
How To Take

DIRECTIONS: Ages 8+. Take 3 capsules daily with or without a meal, or as directed by your healthcare practitioner. No refrigeration needed.
Shipping Info

Just Thrive is not responsible for any customs or duty charges. All customs charges are the responsibility of the customer. International orders cannot be shipped with expedited options.

You always save on every bottle and get FREE shipping
You are always in control. Change your shipping date or cancel future participation at any time by logging into your account or with a simple call to customer service or email us at info@thriveprobiotic.com.
We ship your next order every 30 days so you save time and never run out.
Any coupon code used applies to first order only.
Returns

Just Thrive is passionate about good health, and we ensure the integrity and quality of our products. That's why we're proud to stand behind every sale with a 100% customer satisfaction "Bottom-of-the-Bottle" Guarantee:

If you're not 100% satisfied with your purchase of any Just Thrive product from www.justthrivehealth.com, return it to us for a full refund* – even if the bottle is empty!

Please ensure you use the Return Portal to receive a refund.

*Excludes shipping. Applies to a maximum of two bottles purchased directly.
View full details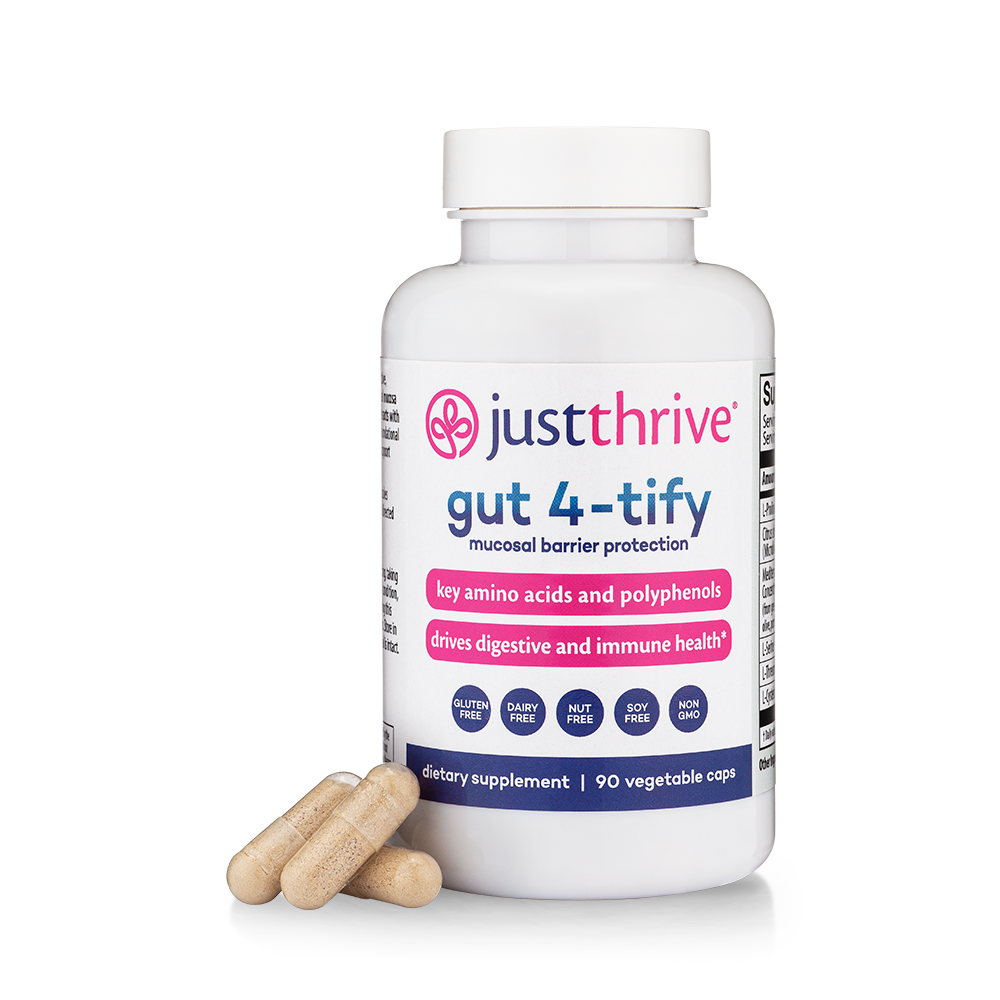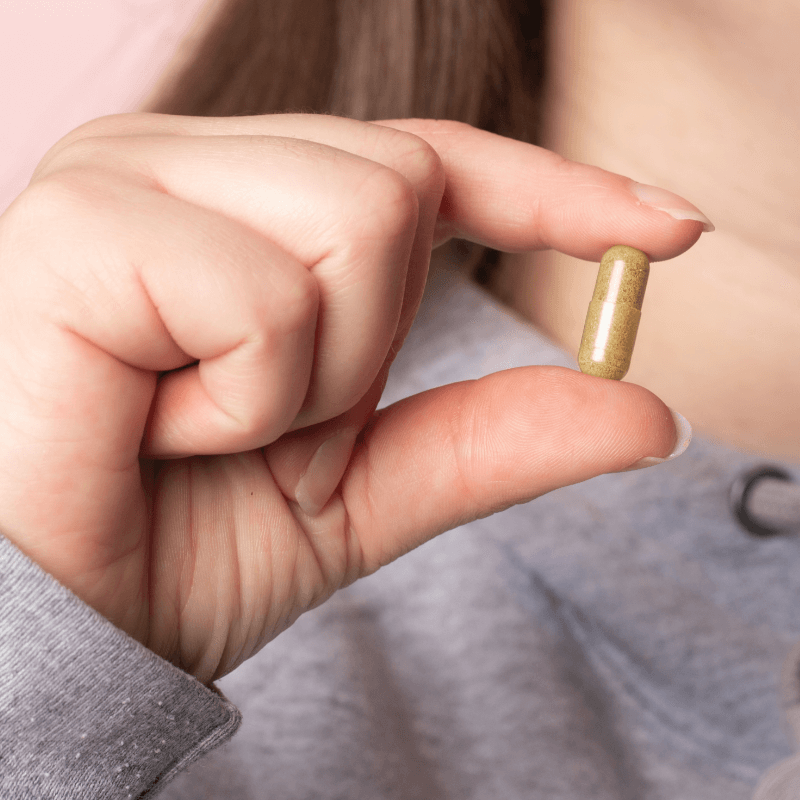 Improvements:
Reusable Glass bottle and paper packaging for refills
Awesome Gut Healing Blend
I'm 6 weeks into using Gut 4tify. I am having great results. It took a couple of weeks, but by week 3 my symptoms were all starting to resolve. I love this product.
Didn't notice anything
I didn't notice anything from taking this. It seemed like a placebo.
Very helpful product
I started taking Gut 4-tify after a bout of diverticulitis and have noticed a difference in digestion. Will continue taking.
Not for me
I wish I could take it but it gave me awful stomach pain and nausea. Other products are great I just think I can't tolerate this particular one.
Likes:
Well, I sure hope it helped me, after I spent all tgat money on it
Improvements:
Selling your stuff at lower prices so I might better be able to afford ordering another bottle
Adrift in the unknown
I just couldn't decide if taking this stuff was producing any positive results, I just can't decide . Perhaps I started to take it too soon after starting your probiotic, or need to take it for a longer time. Don't know…. Just don't know. Taking your "Precision Prebiotic " now. Sure hope it helps, proceeding with caution. Tell me do you have any post- probiotics like "Butyrate " supplements. I have been reading on the internet they help a lot. Of course that is on the internet CD. The same place I met you.