"The only complete probiotic you'll ever need"
"Just Thrive Probiotic is the first and only 100% all natural spore form DNA verified & tested probiotic supplement. As the subject of groundbreaking clinical studies, Just Thrive has demonstrated incomparable effects on the gut and its undeniable connection to the immune system and brain. So, this is a probiotic that actually does what it's supposed to do! I strongly recommend Just Thrive Probiotic & Antioxidant!"
Dave Asprey
Bulletproof founder & Father of Biohacking
Non-GMO
Non-Diary
Sugar/Salt Free
Gluten Free
Nut Free
Vegan
Paleo
Keto
Award-winning digestive and immune support

Secure Checkout

Safe Shipping

Satisfaction Guarantee
View full details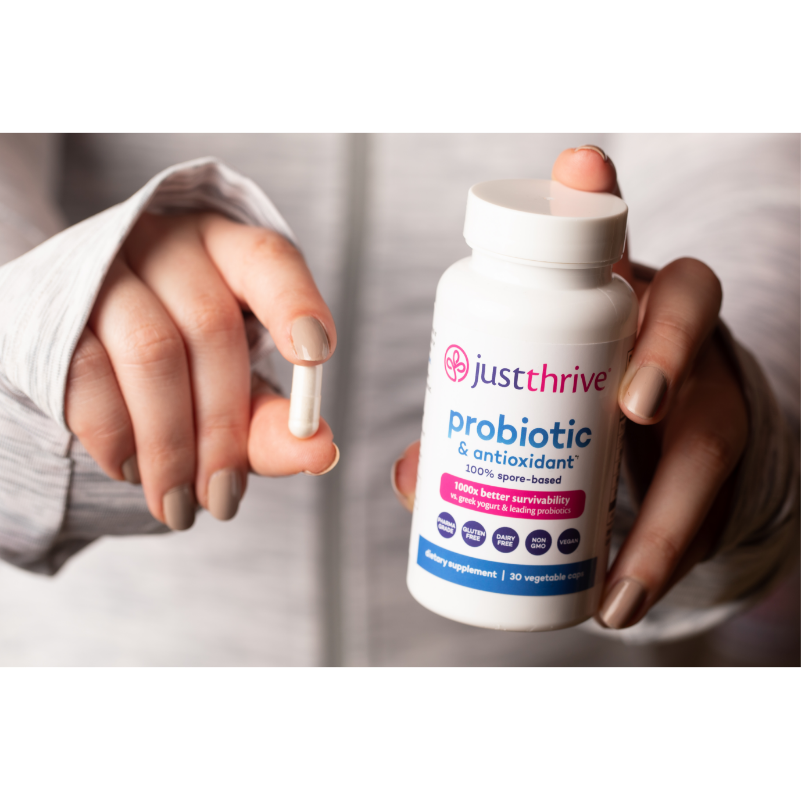 Likes:
I love how regular and complete my bowel movements are and I've not been sick I ages
Improvements:
Not a thing
Great results
I take my probiotic every other day. It keeps my gut healthy and I feel like my poops are complete - all of the waste out!!
Probiotic - 30 Day Supply
Feel great!
My gut feels great after just the first week of taking the probiotics. Really helps to keep things going smooth in the gut!
Likes:
Was highly recommended and lived up to the hype
Improvements:
Inconsistent shipping times.
First order
First order arrived super quickly. Had made a huge difference in my daughters tummy troubles. My second order was placed two weeks ago and still hasn't arrived. I am in Canada, but that's along time!
Likes:
I always take advantage when discounts are offered.
Improvements:
Nothing comes to mind.
Excellent supplements
Excellent product. I trust the research that goes into these products and that's why I've been a long time customer. I have recommended the probiotics to many friends.
Take Control Of Your Health With A Proven, Potent and Effective Spore Probiotic
1000x better survivability vs. yogurt, greek yogurt & leading probiotics
Supports immune health in the digestive system, where over 70% of it lives
Increased digestive nutrient absorption in the intestines
Powerful digestive support
Powerful antioxidant and carotenoid production at the most bio-available location in your body
Improved flora balance
The
Just Thrive Probiotic

Process

Once Just Thrive Probiotic enters the digestive system, it has been found to perform many critical functions, including supporting your best immune health; both increasing digestion and absorption of nutrients from food, and producing important functional antioxidants.

The strains used in Just Thrive Probiotic have been proven to survive the gastric system 100%! Once they arrive alive in the intestines, they actually have the unique ability to read and diagnose the microbial environment and:
Identify and crowd out pathogenic organisms
Create compounds and nutrients to feed the good bacteria in the gut
The exclusive superstrain, Bacillus Indicus HU36™️, turns your digestive system into an antioxidant factory
This approach is the most effective way to achieve diversity in the gut and is why customers are seeing such dramatic results with Just Thrive Probiotic!
Just Thrive Probiotic contains gut commensal organisms, meaning they belong in the gut (and find a binding site in the intestines), and these strains have a 21-day life-cycle in the gut, while most other probiotics simply pass through like food.
Created with a patented strain called
Bacillus Indicus HU36™️
Bacillus Indicus HU36™️, produces antioxidants/carotenoids (the nutrients that give red peppers and tomatoes their color) in your intestines where they can be best absorbed by the body, making it one of the most absorbable forms of antioxidants on the market.
Along with Bacillus Indicus (HU36), the spore strains in Just Thrive Probiotic are the only on the retail market clinically proven to address leaky gut within just 30 days!
View ingredients
Our 100% Iron-Clad Money Back Guarantee
Just Thrive is passionate about good health, and we ensure the integrity and quality of our products. That's why we're proud to stand behind every sale with a 100% customer satisfaction "Bottom-of-the-Bottle" Guarantee: If you're not 100% satisfied with your purchase of any Just Thrive product from JustThriveHealth.com, return it to us for a full refund* – whether it's been 2 days, 2 weeks, or 2 months... Even if the bottle is empty!
*Excludes shipping, applies to a maximum of two bottles purchased directly from Just Thrive.
What are people saying?
Kiara M – Verified Buyer
Changed My Life
Honestly, there isn't enough time to tell you how much your product has changed my life! It's astonishing. I'm hooked. You have a customer for life AND I'm telling the whole world about you too
Sheri K– Verified Buyer
Best Probiotic Ever!
I have been taking this probiotic for a few months now and have noticed a tremendous difference in my overall well-being. It's so true when they say your gut is your second brain.
David G – Verified Buyer
"Relief."
Within three days of taking Just Thrive, I began seeing some relief. Now, three months later, no more loose bowels. I'm having normal bowel movements. Just Thrive has been nothing short of miraculous.
Michelle M– Verified Buyer
"My kids ask for it!"
I have been asked by my 17 yr old and 21 yr old to please make sure we get a "refill" as they put it! Just Thrive is the best probiotic on the market! Autoship is the way to go!!!!
Joyce P– Verified Buyer
"Sleeping So Much Better at Night!"
I read that it may take 3-4 months to see a difference, and I just ordered a 3 month supply, because my sleep at night has really improved, my skin seems healthier, and my energy level has increased!
Johnny A – Verified Buyer
"Saved my life"
No exaggeration there - Just Thrive probiotic was a pivotal element in my life. A heartfelt thank you for Just Thrive's scientists behind the product, and the very friendly team that helps me with my orders!
Frequently Asked Questions
Save 🕒 and 💵 with Auto-Ship
Save $10 bottle per month ($5 discount plus free shipping) when you select Auto-Ship. You'll receive your shipment every month. No sign-ups, no contracts, call us to cancel at any time. We guarantee you'll love it!
No Thanks, Continue to check out