"We're thrilled to introduce Just Thrive to our audience! Just Thrive Probiotic is the first 100% all natural probiotic and antioxidant on the market and the only probiotic clinically proven to address leaky gut within just 30 days! To support your digestive, immune, and emotional health, we strongly recommend Just Thrive Probiotic!"
"We're thrilled to introduce Just Thrive Probiotic to our audience!"
Get 15% OFF by using the code SKINNY at checkout

Secure Checkout

Safe Shipping

Satisfaction Guarantee
Shipping Info

Just Thrive is not responsible for any customs or duty charges. All customs charges are the responsibility of the customer. International orders cannot be shipped with expedited options.

You always save on every bottle and get FREE shipping
You are always in control. Change your shipping date or cancel future participation at any time by logging into your account or with a simple call to customer service or email us at info@thriveprobiotic.com.
We ship your next order every 30 days so you save time and never run out.
Any coupon code used applies to first order only.
Returns

Just Thrive is passionate about good health, and we ensure the integrity and quality of our products. That's why we're proud to stand behind every sale with a 100% customer satisfaction "Bottom-of-the-Bottle" Guarantee:

If you're not 100% satisfied with your purchase of any Just Thrive product from www.justthrivehealth.com, return it to us for a full refund* – even if the bottle is empty!

*Excludes shipping. Applies to a maximum of two bottles purchased directly.
View full details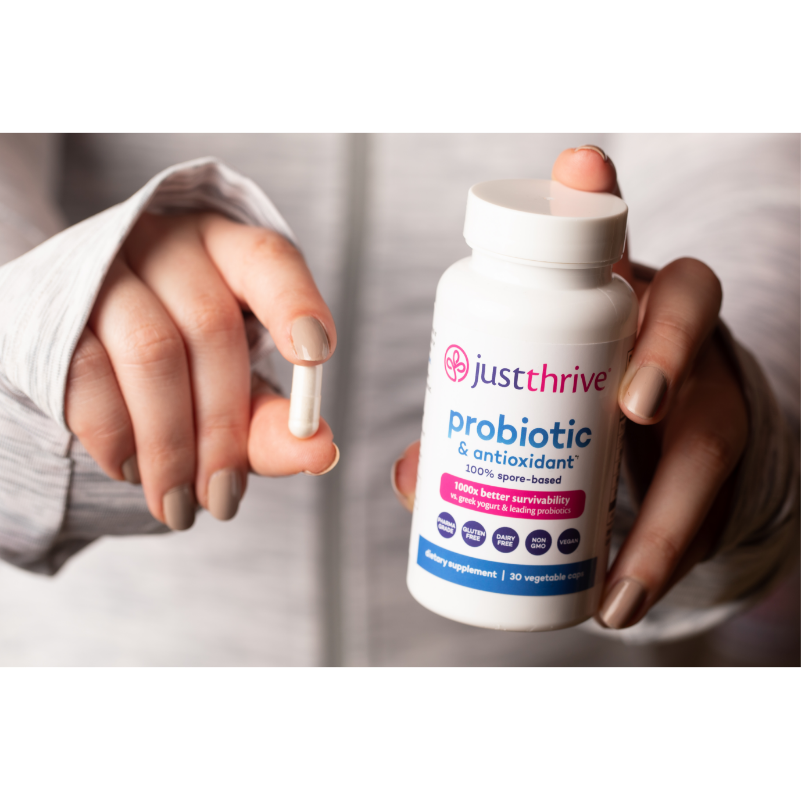 I think this actually makes a difference. If was highly sceptical but I'm subject to constant minor viruses and my microbiome screen was awful, so I thought I'd give it a go. I haven't come down with any of the winter bugs that are circulating, even in my direct family, and I feel generally well all the time. I'm planning another microbiome screen in a few months so will be interesting to see the results.
Best probiotic spore based so no refrigeration needed!
Miracle probiotic
This probiotic really keeps me on track physically and mentally. I love it.
Non-GMO
Dairy Free
Sugar Free
Gluten Free
Nut Free
Vegan
Paleo
Keto
Take control of your health and feel your best with this

breakthrough Probiotic Technology
1000x better survivability vs. leading probiotic and yogurt products
Provides targeted immune support in the gut, where 70-80% of your immune system lives
<
Drives optimal digestive health and enhanced nutrient absorption
Supports healthy weight management and promotes healthy skin
Creates powerful antioxidant production at the most bio-available location in your body
Is proven to improve flora balance and address leaky gut in just 30 days
Why
Just Thrive®

Is So Effective

With 70-80% of your immune system living in your gut, the health of your gut can have a profound impact on your overall health and wellbeing.

But with an estimated 85% of Americans suffering from some form of gut disruption:
Gas
Bloating
Diarrhea
Constipation
Leaky Gut, and more...
Many of us can use all the extra help we can get.
That's where the RIGHT Probiotic can do wonders… Unfortunately, probiotics are NOT all created equal.
In fact, according to research, your body's naturally harsh stomach acid – which is necessary for digestion – kills off 99.99% of the probiotic strains available.
Shockingly, even the *supposedly* special probiotics in the refrigerated section are "dead on arrival" when they reach the areas they're needed most.
(After all, if a probiotic can't survive at room temperature, how can it survive the typical human body temperature of 98.6 degrees?!?)
By contrast, the proprietary, spore-based strains in Just Thrive Probiotic are clinically proven to arrive 100% alive in your gut where they get right to work:
Clearing out

bad bacteria and pathogens
Feeding the growth of good bacteria to

drive immune function

Creating a

calming effect

on GI disturbances for a happier tummy
Supporting

healthy skin

and

optimal weight

management
Encouraging

more energy

and

better sleep
And when you support the health of your gut with Just Thrive, you're strengthening the health of your entire body, including your:
Immune health
Digestive health
Mental health
And much, much more!
Created with a patented strain called
Bacillus Indicus HU36®
This is the strain that makes Just Thrive Probiotic such a game-changer. Bacillus HU36® has been shown in studies to turn your intestines into an antioxidant factory. When it comes to fighting free radicals (toxic by-products that damage your cells) antioxidants are our best and most effective allies. And stopping free radicals is a MUST if you want to feel your best.
As the subject of groundbreaking clinical studies, the proprietary strains in Just Thrive Probiotic have demonstrated incomparable effects on the gut and immune system.
The Just Thrive Probiotic stands alone as a wholly unique product that is PROVEN effective!
Support your digestive and immune health today!
Our 100% Iron-Clad Money Back Guarantee
Just Thrive is passionate about good health, and we ensure the integrity and quality of our products. That's why we're proud to stand behind every sale with a 100% customer satisfaction "30-Day Bottom-of-the-Bottle" Guarantee: If you're not 100% satisfied with your purchase of any Just Thrive product from JustThriveHealth.com, return it to us for a full refund* – even if the bottle is empty!
*Excludes shipping, applies to a maximum of two bottles purchased directly from Just Thrive.
What people are saying
Sheryl M.
Changed My Life
Just Thrive Probiotic is absolutely amazing beyond words! I don't normally write reviews; however, as a Nutrition Consultant for over 25 years, I have TRULY tried every probiotic out there and have never experienced such a difference so quickly.
Andi T.
Just Thrive Delivers REAL RESULTS!
I have tried many different probiotics over the last several years, and recently found Just Thrive. It works great! Addresses bloating and constipation, my skin looks better, and I just feel fantastic!
Mel S.
Can be taken with antibiotics
Since using these probiotics, things have improved so much. Unlike other probiotics, these can be taken with antibiotics which makes things much easier for the timing of my son's medications.
Joyce P
Sleeping So Much Better at Night
I read that it may take 3-4 months to see a difference, but I just ordered a 3 month supply, because my sleep at night has really improved, my skin seems healthier, and my energy level has increased!
David G
Relief!
Within three days of taking the Thrive, I began seeing some relief. Now, three weeks later, no more loose bowels. I'm having normal bowel movements. Just Thrive has been nothing short of miraculous.
Kristin A
The only solution
I spent upwards of $15,000 in one year on a very famous functional medicine doctor, only to get sicker than ever! His protocol drained our bank account and left me discouraged and devastated. After hearing about Just Thrive on instagram, I decided to give it a try (I had nothing to lose). Within 1 WEEK, my issues had almost disappeared! It has been a month now and the products have given me my life back. I am humbled and thrilled.
Frequently Asked Questions
Because Just Thrive is such a potent product, many users feel a difference in just two to three dosages.
If you tend to have gastrointestinal disturbances, you should experience a calming effect on your system almost instantly.
If you tend to have irregular bowel movements, you will find improved regularity.
Users have also reported more energy, better sleep, and just an overall "good" feeling.
Better sleep = a better mood (and the ability to better handle stress)!
Users have even experienced fewer sugar cravings and easier weight control.
Even your immune system gets tremendous support, and you're less prone to catching everything going around…
Your entire body benefits when your gut is healthy!
Just Thrive is simple and easy. Take 1 small capsule any time of the day with a meal and go on with your day.
The capsules are about the size of a normal vitamin and since we use only the most proven and potent nutrients with zero fillers, there's no wasted space.
You need the right dose of nutrients that SURVIVE — so you can get the results you want.
And with Just Thrive that's exactly what you get.
Kids need to thrive, too! It's so important to give kids the proper nutrition they need from the very beginning.
That also means good gut health and the proper bacteria levels they need for lifelong health.
Just Thrive has helped to support protocols in a variety of cases, including kids with spectrum disorders, bowel issues including irregular bowel movements, kids on antibiotic therapy and more.
And Just Thrive is safe for kids of all ages. We recommend starting with half a capsule sprinkled on their food, or in a glass of water or juice. Kids won't even know it's there since these strains are tasteless, colorless and odorless.
If you consider awesome energy, smooth digestion, and incredible immune support side effects, then yes!
The proprietary strains used in Just Thrive are a normal part of the human microflora — that means your body welcomes them home.
They have been used medicinally in Europe for more than 50 years.
Before you experience all these benefits, however, you may notice a few minor symptoms like cramps and bloating. But not to worry. These detox symptoms are temporary and a normal part of your gut flora 'rebalancing'.
These symptoms are caused by your body essentially "clearing out" the bad bacteria and are an excellent indication Just Thrive is working to rebalance the gut flora.
This special discounted offer is only available right here — while our limited supplies last.
Of course! You are backed by our ANYTIME "Bottom Of The Bottle" Guarantee.
You simply experience better digestion… powerful immunity… loss of stubborn weight… a boost in energy… better sleep… or you don't pay a cent!
It's as simple as that. So give Just Thrive a try, then if for any reason you're still not satisfied, even after you have put Just Thrive to work…
At ANYTIME… whether it's 30 days… or 300 days later…
Call or email the customer service team (their direct contact information will be on your receipt) and we'll make it right, even if the bottle is empty.
You have no risk whatsoever with this offer. Just Thrive will work for you, or you pay nothing.